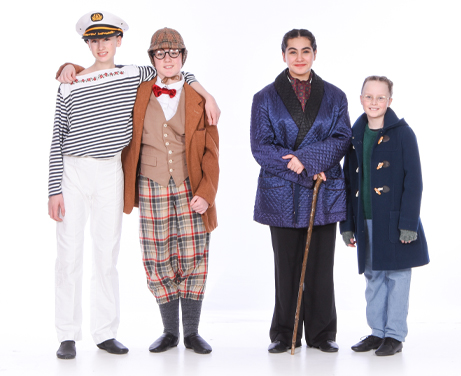 Here are a few testimonials from parents of our pupils.
"Thank you Jo for continuing with Masquerade throughout the Covid Pandemic. Libby has really valued the opportunity to connect with you and the other students. Masquerade has helped Libby to develop not only performance skills but social skills and confidence. She enjoys the variety of different focuses in classes from singing to acting."
"Our daughter absolutely loves going to Masquerade each week. She only began in September and with her being young we weren't sure if it'd be too much for her with starting reception too but she comes home each week excited about all the games, songs and activities she's done. During lockdown we could see how much enjoyment comes from each lesson and how she has developed. It's helped her to develop her confidence, socially and her early reading skills too. We know that Jo, Yvonne and Sally work so hard to make sure the children have fun whilst learning and we can't wait to see what they put together for their next show!!"
"While my daughter has been at Masquerade they have nurtured her and given her confidence to perform on stage. She loves attending lessons every week and I love that it is a safe and fun environment for her. The staff are professional and able to bring out the best in all children. "
"It's awesome at Masquerade, it's great fun! I've learned so much and met new friends. Please come and join us, you'll love it – promise!"
"Masquerade has given Liz much more confidence, not only when she is performing but when speaking generally. It has also given her an appreciation of musical theatre and an interest outside of the world of the latest music fads."
"As Lydia and Georgia are home educated it can sometimes be difficult to ensure they are engaging in social interaction with their peers. Masquerade not only provides stimulating classes where they are both learning something they are extremely interested in but also fosters a safe environment in which they are learning to be more socially confident."
"My daughter has been at Masquerade since it's beginning. As she was a girl who had a lot of self doubt and lacked confidence, I thought she would benefit from expression in the form of speech and music. I am pleased to say that this indeed has helped her, in fact when she moved to her secondary school, she elected to do extra curricular LAMDA (London Academy of Music and Dramatic Arts) lessons. This progression was built on the platform that Masquerade provided. However she wouldn't have continued had she not enjoyed it. She has and still does."
May 2006
Masquerade opens!
---
February 2007
"The Rhythm of Life", Solihull Arts Complex
---
December 2007
"Christmas Memories", St Thomas' Church, Birmingham
---
February 2008
"Glamba", The Artrix, Bromsgrove
---
February 2009
"At the Movies", Solihull Arts Complex
---
February 2009
"Glamba", The Artrix, Bromsgrove
---
February 2010
"Glamba", The Artrix, Bromsgrove
---
February 2011
"Moments in Time", Solihull Arts Complex
---
July 2011
"Masquerade Live", Digbeth in the Field Church, Birmingham
---
December 2011
"Cinderella", Birmingham Hippodrome
---
July 2012
"Our Moment to Shine", Digbeth in the Field Church, Birmingham
---
February 2013
"Ticket to Ride", Solihull Arts Complex
---
October 2013
"Snow White", Old Rep Theatre, Birmingham
---
December 2013
"A Merry Christmas", St Thomas' Church, Birmingham
---
February 2014
"Birmingham Festival of Acting & Musical Entertainment", The Dovehouse Theatre, Solihull
---
July 2014
"A Summer Triple Bill", Digbeth in the Field Church, Birmingham
---
February 2015
"Pure Imagination", Solihull Arts Complex
---
February 2016
Birmingham Festival of Acting and Musical Entertainment, Hall Green Little Theatre
---
June 2016
"Wind in the Willows", Digbeth in the Field Church, Birmingham
---
December 2016
"Christmas Time", St Thomas' Church, Birmingham
---
February 2018
"Stories to Stage", The Core Theatre, Solihull
---
May 2019
"Aladdin Trouble", Digbeth in the Field Church, Birmingham
---
February 2020
"Dance the Decades", The Core Theatre, Solihull
---
April 2022
"My Favourite Things", The Shirley Centre, Solihull
---
February 2023
"We are Golden", The Core Theatre, Solihull
Masquerade Classes
St Thomas' Church, Garretts Green Lane, Sheldon, Birmingham B26 2SA
© 2016 Masquerade Musical Theatre